On Tuesday, October 27, 2015, I attended the 6th Annual MindShare Learning Technology Canadian EdTech Leadership Summit at the MaRS Discovery District in downtown Toronto with my colleague, Emile Ferlisi noproblem.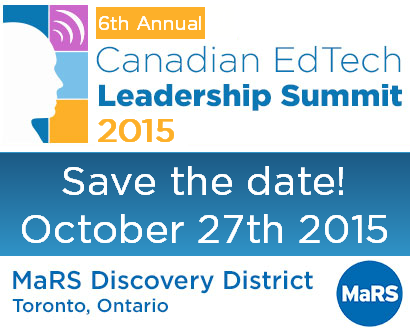 As soon as I got there, Emile and I were offered swag, a photo op in front of a large sheet of banner paper that was decorated with all of the company logos who sponsored and were a part of the event. My first thought was, "Wow, this is impressive," and my second immediate thought was, "I feel like a fish out of water."
The day was full of keynote speakers and discussion panels as well as a Dragon's Den Style Ed Tech start-up challenge where entrepreneurs presented their company mission and how their brand of technology could help students become more successful in school.
These presentations were enough to fire up the crowd of educators and business leaders in the field of education and technology. People had their phones out – not as a distraction, but to use as a tool to share, with whomever sees it, their thoughts and experiences at the Summit. There was a screen at the back of the room that would flash up tweets of people in
attendance that were happening in real time and it was more than enough to give even myself incentive to tweet my experience (and I admit, I got excited every time I would see a tweet of mine go up on the screen).
Some key ideas that resonated with me from the Summit are:
21st century technology embedded in 20th century teaching practices and in a 19th century environment doesn't cut it.

These great advances won't matter unless we are utilizing them in the way that they are meant to be used and if we're not creating the environment (both physically and mentally) that can help students run with these advancements and technological tools
Students shouldn't be limited to the last textbook edition when they can have the best textbook right at their fingertips (the internet).

We are moving into an age where textbooks will become secondary resources for teachers – it's our job not to rely on them so much anymore
Teachers should be thought of as designers who need to embrace technology and feel empowered utilizing it.

Technology in the classroom shouldn't be seen as a scary and daunting entity, but as a way for us to enhance and engage the student's learning experiences – once we change our mindset on how useful of a tool this can be, we'll be more inclined to become more knowledgeable
Technology is a fantastic tool in education that can be used to bring parents into the learning picture and help connect students to experts or authors in the subjects they are learning.

How amazing is this concept? Long gone could be the days where the parents could know what their child is doing at school without having to ask them and getting a vague response in return. Instead of learning about an astronaut's journey to space, maybe we could skype with one and learn from their experience directly – or maybe, we could have a connect with the author of a book we are reading as a class through twitter. The possibilities truly are endless of how we can bring learning to life.
Students show their learning in a way that makes sense to them, and if technology is a dominant aspect of their lives, then this is how they would most likely prefer to present their learning (and with this, we should think of this new type of learner as the technological learner).

If students can demonstrate their learning of a math concept using Minecraft instead of more traditional tools, why not let them? Are they still not demonstrating their learning?
If learning is personalized, shouldn't all students be considered gifted?

This reminds me of the Albert Einstein quote on teaching a fish to ride a bike – just because this is not possible, does this mean that the fish is not smart?
The information provided was very inspirational and made me feel like we, as educators, are really doing our part in trying to keep up with the times. I feel like in an ideal world where every classroom has a Smart Board or, better yet, a laptop or some sort of device that each student has at their disposal, all of these ideas and advances would take their learning off the charts. But this is not the case and, in fact, unless there are huge sums of money being allocated towards technology in schools, this will most likely never be the case for some schools. This leads to another point that was discussed at the Summit: we don't need technology to be great, but it definitely helps with some aspects of our teaching. We also need to understand that our students are growing up in a world where technology is all around them and will continue to grow and become more dominant in their lives. In 50 years, I wouldn't be surprised if we could only see pencils in museums rather than classrooms.
The information was great, but I feel like there is an accessibility issue that didn't really come up (other than speaking about Aboriginal students in Northern Ontario where bandwidths are very expensive and hard to come by).  In my perspective and working in an inner-city school (though we are lucky enough to have A LOT of technology), I feel like the information that was presented was really only presented for a specific student who lives in a specific area and goes to a specific school – this is not always the case and in fact I feel like this
might create more of a gap in learning. Despite these great strides that are happening with technology, we must never forget that students will always need that human connection to form the whole that is learning.
For myself, this Summit was just a reminder of how much more I need to integrate technology in my classroom. I always feel like I'm on the ball and "with it" until I see what else is going on and how much more I can really do. I was happy that the opportunity was presented to us to attend the event and it's something that I will definitely take with me in my future planning for my students.